Groovy cats and dolls, gather 'round! Let's take a trip down memory lane to the swinging sixties, where fashion was fly and the vibes were high. This doll pattern we're reviewing takes us back to those early years of the '60s when a certain style made a big comeback, but this time it was all about the ladies.
Picture this: gals in the United States were rockin' the straps inside their shoes, while ladies in other parts of the world wore 'em both ways. But no matter how you wore those straps, you were one hip chick!
Now, let's talk about this doll-sized pattern with its authentic detailing. We're talkin' front pintucks, working stirrups that close with snaps or can be permanently attached, a flat-front waistband with an elasticized back for a universal fit. Oh, and here's the best part: you can choose to make the pants in a stretch woven fabric or a stable knit. Talk about options, baby!
But wait, there's more! The fully-lined Scarf Top is a real blast from the past, inspired by the groovy fashion trends of the '60s. Scarves were all the rage back then, helping to dress up or down those streamlined silhouettes of the decade. This top even has sewn-in loops to keep the scarf neatly in place, and you can switch it out for different mix-and-match options. It's like having a wardrobe straight out of the coolest time in history!
Now, let's talk fabrics – For the top, we're looking for lightweight woven fabrics for the Main Fabric and the Lining. And for that fabulous scarf, we need a very lightweight knit. Now, for the pants, you have two options: go for a woven fabric or a knit fabric with a moderate two-way stretch, somewhere around 15% to 30%. Just make sure those knit fabrics are stable and medium-weight, and for the woven stretch fabrics, think light-to-medium weight like stretch twill, denim, or sateen. It's all about finding that perfect fabric to bring your doll's outfit to life!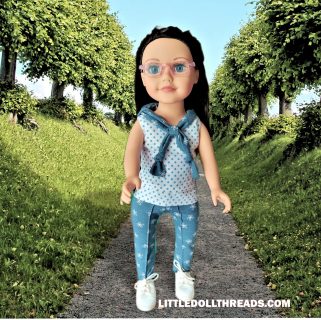 So there you have it, dolls and dudes. This PDF sewing pattern is designed to fit 18″ dolls like the iconic American Girl®, Our Generation®  or other similar sized dolls.  Get ready to transport your doll back to the swinging sixties, where style and fun go hand in hand. It's time to stitch up some groovy threads and let your doll shine like a true fashion icon of the era. Peace out!  Grab the pattern here.